Our laboratory OB, Dr.Fujomoto and Dr. Dobashi attend ICEE 2022
Hello.
At ICEE (International Conference on Environmental Ergonomics) held in Niagara Falls, Canada on September 6th to 10th 2022, two of our alumni, Dr. Fujimoto (Niigata University of Health and Welfare) and Dr. Dobashi (Hokkaido University of Education, Asahikawa) presented data from experiments conducted at our research facility.
The contents of the presentations are as follows.
Dr. Fujimoto : TRPM8 contributes to cutaneous vasoconstriction during local, but not whole-body cooling in humans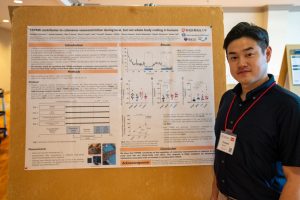 Dr. Dobashi : Hypocapnic hyperventilation and hypoxia additively increase anaerobic metabolism during supramaximal exercise
Thank you for your hard work, Dr. Fujimoto and Dr. Dobashi!